4 Craveable Burgers From Movies and TV Shows
Written By

21 Sep 2022
If you're anything like us, you love burgers. And if you're really like us, you also love TV. So what could be better than a burger featured in your favorite film or series? 
While some of the burgers on this list may not be available in real life (yet), they're all drool-worthy nonetheless. Read on for a roundup of the best burgers from the small and silver screens.
Fictional Burgers You'll Want to Try
1. The Big Kahuna Burger from Pulp Fiction
If you're a fan of burgers and Quentin Tarantino movies, then you've no doubt heard of the Big Kahuna Burger fast food chain. In Pulp Fiction, hitman Jules Winnfield (Samuel L. Jackson) takes a bite from his soon victim's burger and says, "Mmm, this is a tasty burger."
The burger appears to be your typical American beef burger with cheese, lettuce, tomato, and a bun. Apparently, a few restaurants have added the Kahuna burger to their menu, including one in Tarantino's hometown. To get your fill in Toronto, check out BFF's American burger.
2. All the burgers from Bob's Burgers
This list wouldn't be complete without a nod to our favorite burger-centric TV show Bob's Burgers. Bob Belcher is always coming up with new creations with punny names. To name a few of our favorites:
Poblano Picasso Burger: Beef patty topped with spicy poblano salsa verde, fresh tomatoes, and Monterey jack.

A Good Manchego Is Hard to Find: A burger topped with caramelized shallots, Manchego cheese, and fig jam.

Eggers Can't Be Cheesers Burger: An all-beef patty with American cheese, a fried egg, hot sauce, and lettuce.
While you can't get these burgers IRL, you can make your own Bob's Burgers-inspired burgers at home with the right cookbook.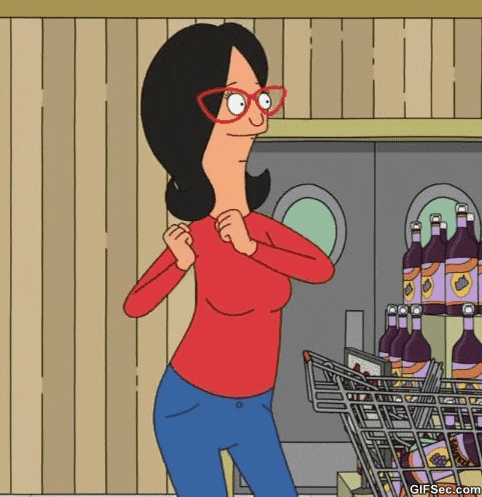 3. Ron Swanson's burger from Parks & Recreation
Parks & Recs fans unite! Let's talk about season 3, episode 10 when Ron (beef enthusiast) and Chris (health freak) have a cook-off. If their peers like Chris' turkey burger better than Ron's beef burger, then turkey burgers will replace beef burgers at the office commissary.
*Dun-dun-dun*
Chris describes his burger as Asian fusion, made with organic turkey, black truffle aioli, micro-greens, etc. Ron's burger, on the other hand, is pretty straight up: bun and beef. All it takes is one bite for everyone to say Ron's burger wins. 
The lessons? 1) Ron Swanson knows meat 2) It's hard to compete with a simple, classic recipe.
4. The Krabby Patty from Spongebob Squarepants
If you grew up watching Spongebob Squarepants, you know all about the famous Krabby Patty. Created by Bikini Bottom's most popular fast food spot the Krusty Krab, this burger is so secret that its recipe is locked away in a safe only Mr. Krabs knows the combination to. While the ingredients are never revealed, the show's creator Stephen Hillenburg has confirmed that the patties are vegetarian.
If you're feeling nostalgic for this cartoon craveable, might we suggest trying a beyond meat burger from a local fast food spot? 😉 🙋‍♂️
So there you have it: a mouthwatering roundup of the best burgers from movies and TV shows that we wish were real. While you might not be able to get your hands on these burgers, we hope this list has inspired you to seek out local spots that have embraced a balance of classic and creative recipes.
Satisfy Your Burger Cravings at BFF
BFF isn't your typical burger n' fries joint. Our food helps to remove barriers and unite people from different backgrounds over memorable and nostalgic flavors. With quality ingredients and creative combos, we aim to be your (tastebuds') BFF. Stop by one of our locations in Ottawa or Toronto. 
Order takeout or delivery directly through our website, and tag us in pics of your fave BFF foods @burgersnfriesforever.